17.09.2017, 14:00 - 17:00
Conférence:

Gerry Schum - TV as a Fireplace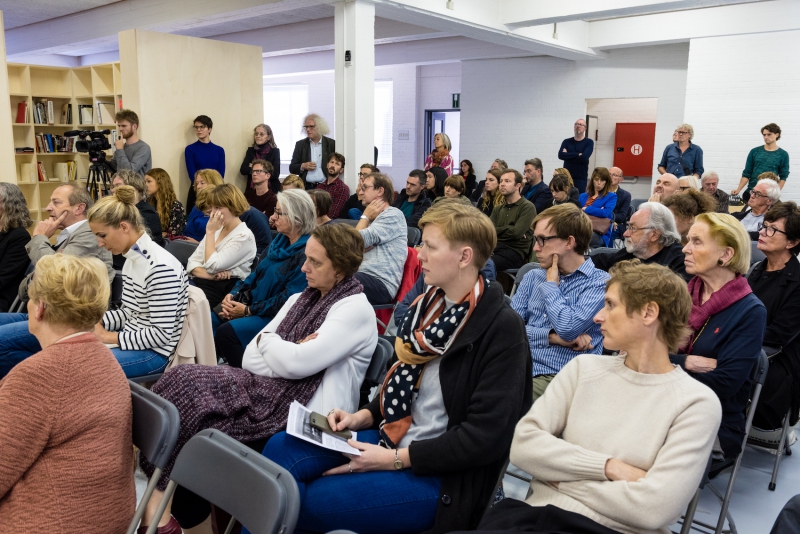 Le cinéaste et programmateur Gerry Schum (Cologne, 1938 – 1973) était un pionnier du paysage artistique et médiatique des années 1960 et 1970. En collaboration avec Ursula Wevers, Schum a réalisé pour la télévision allemande la Fernsehgalerie, un projet d'exposition unique et inconventionnel, qui apporta des œuvres d'art via le téléviseur dans le living des téléspectateurs.
Land Art (1969) et Identifications (1970) sont les deux expositions-télés les plus importantes.
Schum y abandonnait le format commun du documentaire d'art et invitait des artistes comme Joseph Beuys, Gilbert & George, Alighiero Boetti, Jan Dibbets, Richard Long, Mario Merz et Robert Smithson à créer, spécialement pour la télévision, une œuvre d'art.
Dans le cadre de l'exposition Time Extended / 1964 – 1978. Part II, Herbert Foundation organise en collaboration avec Art Cinema OFFoff le symposium Gerry Schum – TV as a Fireplace. A partir de différentes conférences, nous observerons la personnalité de Schum, son œuvre et sa position unique dans le monde international des médias.
Pendant le symposium, TV as a Fireplace (1969) de Jan Dibbets, Land Art (1969) et Identifications (1970) seront présentés.

PROGRAMME
14:00 Mot de bienvenue
14:15 Robyn Farrell: Gerry Schum, son œuvre et sa vision
14:45 Screening: Land Art
15:15 Pause
15:30 Eric de Bruyn (Leiden University)
16:15 Screening: Identifications (selection)
16:45 Discussion en table ronde avec Jan Dibbets, Eric de Bruyn et Robyn Farrell
17:00 Fin
17:00 – 19-00: Vernissage de l'exposition Time Extended / 1964 – 1978. Part II

SCREENING
Jan Dibbets, TV as a Fireplace (1969)
Gerry Schum, Land Art – Fernsehausstellung I, Fernsehgalerie Berlin (1969)
-Richard Long, Walking a straight 10 mile line forward and back shooting every half mile (6'3")
-Barry Flanagan, A hole in the sea (3'44")
-Dennis Oppenheim, Timetrack, following the timeborder between Canada and USA (2'6")
-Robert Smithson, Fossil quarry mirror with four mirror displacements (3'12")
-Marinus Boezem, Sand fountain (4'11")
-Jan Dibbets, 12 hours tide object with correction of perspective (7'32")
-Walter de Maria, Two lines three circles on the desert (4'46")
Gerry Schum, Identifications – Fernsehausstellung II, Fernsehgalerie Berlin (1970)
Sélection:
-Joseph Beuys (4'55")
-Gilbert & George (1'25")
-Stanley Brouwn (1'5")
-Ger van Elk (1'25")
-Giovanni Anselmo (1'10")
-Alighiero Boetti (2'8")
-Gino de Dominicis (1'55")
-Mario Merz (1'30")
-Richard Serra (2'48")
-Lawrence Weiner (50") 

Identifications est présenté en entier à l'exposition Time Extended / 1964-1978. Part II

CONFERENCIERS
Robyn Farrell est commissaire d'expositions, écrivain et assistante curatrice au département d'art moderne et contemporain du Chicago Art Institute. Elle a un intérêt académique pour les formes d'art des nouveaux médias, les réseaux (européens) d'artistes et l'histoire de la distribution et des expositions de l'art cinématographique et vidéo.
Eric de Bruyn est professeur de Théorie des Médias et chercheur à l'Université de Leyde (Pays-Bas). Sa recherche se concentre sur les "topologies des médias": les généalogies des structures topologiques, les modèles et stratégies dans l'art moderne et contemporain.
Dans les années 1960, Jan Dibbets commence sa recherche sur la perception visuelle et la réalité photographique. Par son travail, Dibbets se lie aux courants conceptuels des années 1960 – 1970. Dû à l'usage récurrent du paysage, on parle souvent de son œuvre dans le contexte du Land Art.

INFORMATIONS PRATIQUES
Langue: anglais
Lieu: Herbert Foundation, Raas van Gaverestraat 108
Le prix d'entrée est de 14 euros (8 euros pour étudiants), à payer en liquide. Les places sont limitées.
Veuillez réserver votre place via reservation@herbertfoundation.org

Avec le soutien du: