21.01.2018, 14h00 - 18h00
Conversation:

Konrad Fischer and Internationalism / 1967-1973
Kasper König, Benjamin H. D. Buchloh & Lynda Morris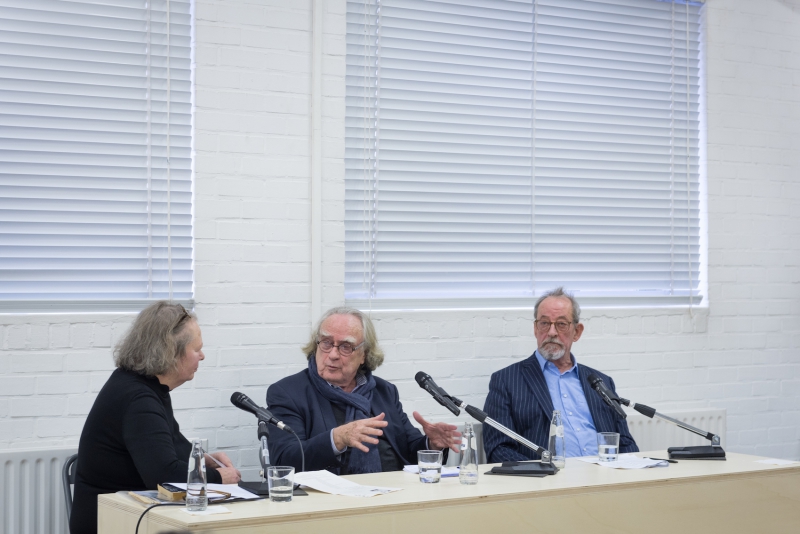 C'est avec plaisir que Herbert Foundation vous invite le dimanche 21 janvier 2018 à une conversation faisant honneur à l'œuvre de Konrad Fischer.
Cet événement aura lieu dans le cadre de l'exposition Time Extended / 1964 – 1978. Part II et rend hommage à leur ami Konrad Fischer qui, en tant qu'artiste, devint le curateur et marchand d'art le plus innovateur de cette période.
Le projet, conçu par Lynda Morris, souligne l'importance de Konrad Fischer pour la Collection et les Archives d'Annick et Anton Herbert.
En octobre 1967, Konrad Fischer (Düsseldorf, 1939-1996) a ouvert un espace consacré à l'art contemporain, dans une ruelle désaffectée de la Neubrückstrasse à Düsseldorf. Au moyen d'expositions, toutes appelées Ausstellungen Bei Konrad Fischer, le but était de promouvoir l'œuvre de jeunes artistes, qui étaient à cette époque inconnus en Europe et aux Etats-Unis.
Pendant les préparations à l'ouverture de son espace, il a écrit une lettre à Kasper König à New York, lui demandant son aide afin de contacter des artistes américains : "I am planning big things. For these big things, however, I urgently need your help. I am opening a dealer gallery. In September I have already the space, very beautiful…I absolutely want to make a progressive gallery, in which good young artists, also unknown, would exhibit… I am interested in Carl Andre, Donald Judd, Sol LeWitt, Agnes Martin … You will also know a few good, young people there, whose names are not known to me yet…"
La conférence à Herbert Foundation est composée d'une conversation entre Kasper König, Benjamin Buchloh et Lynda Morris. Les trois intervenants connaissaient tous Konrad Fischer dans les premières années et discuteront de son rôle avec de jeunes artistes internationaux de cette époque. En mettant l'accent sur les années 1967-1973, la discussion esquissera aussi le début du développement du Minimal Art en Conceptual Art. Le fait que Fischer insistait que les artistes mêmes viennent à Düsseldorf au lieu de simplement transporter leurs œuvres dans des caisses, leur a permis aux artistes de rencontrer leurs contemporains et de créer une balance internationale entre les Etats-Unis et l'Europe dans les années 1967-1973.
La conversation sera accompagnée d'une exposition de pièces d'archives sur Konrad Fischer dans la salle d'expo de la Herbert Foundation et mènera finalement à une publication plus approfondie, plus tard en 2018.

INTERVENANTS
Kasper König a étudié à Londres et à New York et était l'assistant de Pontus Hulten au Moderna Museet à Stockholm, dès 1966, pour des expositions sur Warhol, Oldenburg et Keinholtz. Un an plus tard, il a aidé Konrad Fischer à contacter des artistes américains. En 1969 il était directeur de l'espace expérimental A 37 90 89 à Anvers, fondé par Hubert Peeters, Isi Fiszman et Herman Daled. Ensuite, König a travaillé au Nova Scotia College of Art and Design et a fondé leur programme de publications. Il a été attribué la Chaire de la Kunstakademie Düsseldorf en 1985. En 1987 il a fondé Portikus à Francfort-sur-le-Main et est devenu le directeur de la Städelschule Frankfurt en 1989. De 2000 à 2012 il était le directeur du Museum Ludwig à Cologne. König était le commissaire général de Manifesta 10 à Saint-Pétersbourg et il a organisé cinq Skulptur Projekte Münster, de 1977 à 2017.
Benjamin H. D. Buchloh a étudié à Berlin et a édité en 1974-75 le magazine Interfunktionen. Il a travaillé au Nova Scotia College of Art and Design et à Columbia University. Depuis 2006 il est l'Andrew W. Mellon Professor of Modern Art à Harvard University. Il a travaillé avec Konrad Fischer à l'exposition Prospect : Retrospect – Europa 1946-1976. Il a publié Beuys : The Twilight of the Idol en 1980 dans Artforum, et a édité l'édition d'octobre 1987 sur Marcel Broodthaers. Il est l'auteur de Neo-Avantgarde and Culture Industry : Essays on European and American Art 1955-1975 et de monographies sur Gerhard Richter et Andy Warhol. Il est internationalement reconnu comme l'un des experts les plus importants de l'art après 1945.
Lynda Morris a rencontré Konrad Fischer quand elle travaillait à l'installation de When Attitudes Become Form à l'ICA en 1969. Elle a écrit une thèse au RCA sur l'éducation à l'art: Beuys, Arts Language and NSCAD, et a écrit pour Studio International et Art Monthly. Elle a travaillé pour Nigel Greenwood et organisé Book as Artwork de Germano Celant en 1972. A la Slade School of Fine Art elle a développé des projets avec Marcel Broodthaers, Dan Graham, Joseph Beuys, Andre Cadere et Gilbert & George. Au Midland Group Nottingham elle a organisé Richter's 48 Portraits, David Hockney's Prints et A.I.A.: Story of the Artists' International Association, 1933-53. Elle a organisé EASTinternational de 1991 à 2009 et Picasso: Peace and Freedom à la Tate en 2010. Elle est Professeure en Art History and Curation à Norwich University of the Arts.

INFORMATIONS PRATIQUES
Langue: anglais
Lieu: Herbert Foundation, Raas van Gaverestraat 108
Le prix d'entrée est de 14 euros (8 euros pour étudiants), à payer en liquide. Les places sont limitées.
Veuillez réserver votre place via reservation@herbertfoundation.org
Update 09.01.2018: cet événement est COMPLET.
Il est possible de vous inscrire sur notre liste d'attente, on vous contactera lorsqu'une place se libère.