17.09.2017, 14:00 - 17:00
Conferentie:

Gerry Schum - TV as a Fireplace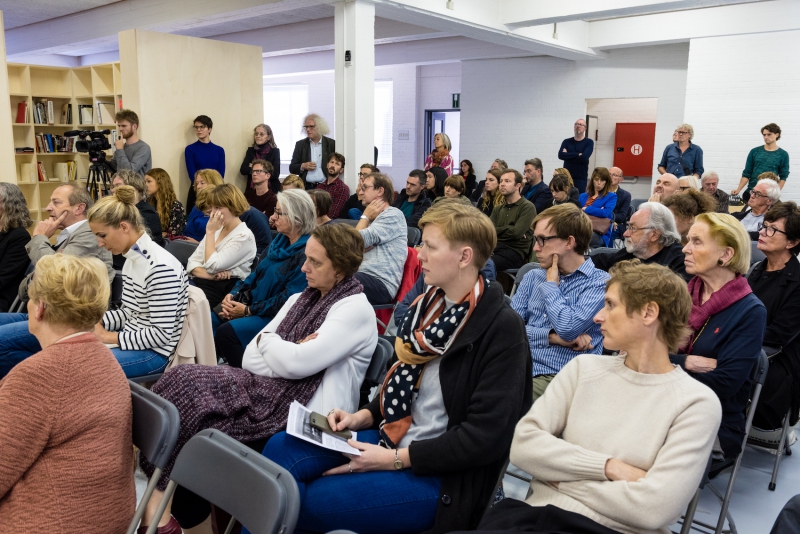 Filmmaker en programmator Gerry Schum (Keulen, 1938-1973) was een pionier binnen het kunsten- en medialandschap van de jaren 1960 en 1970.
In samenwerking met Ursula Wevers realiseerde Schum voor de Duitse televisie de Fernsehgalerie; een uniek en onconventioneel tentoonstellingsproject dat via de beeldbuis kunstwerken tot in de woonkamer bracht.
Land Art (1969) en Identifications (1970) vormen de twee belangrijkste tv-tentoonstellingen. Hierbij nam Schum afstand van het gangbare format van de kunstdocumentaire en nodigde hij kunstenaars als Joseph Beuys, Gilbert & George, Alighiero Boetti, Jan Dibbets, Richard Long, Mario Merz en Robert Smithson uit om, specifiek voor televisie, een kunstwerk te maken.
Binnen het kader van de tentoonstelling Time Extended / 1964 – 1978. Part II organiseert Herbert Foundation in samenwerking met Art Cinema OFFoff het symposium Gerry Schum – TV as a Fireplace.
Met lezingen, gesprekken en vertoningen wordt ingegaan op de figuur Schum, zijn oeuvre en unieke positie binnen het internationale kunsten- en medialandschap. Tijdens de conferentie worden TV as a Fireplace (1969) van Jan Dibbets, Land Art (1969) en Identifications (1970) vertoond.

PROGRAMMA
14:00 Welkomstwoord
14:15 Robyn Farrell: Gerry Schum, visie en oeuvre
14:45 Screening: Land Art
15:15 pauze
15:30 Eric de Bruyn: Schum binnen het Duitse medialandschap
16:15 Screening: Identifications (selectie)
16:45 Panel met Jan Dibbets, Eric de Bruyn en Robyn Farrell
17:00 Einde conferentie
17:00 – 19-00: Opening Time Extended / 1964 – 1978. Part II

SCREENING
Jan Dibbets, TV as a Fireplace (1969)
Gerry Schum, Land Art – Fernsehausstellung I, Fernsehgalerie Berlin (1969)
-Richard Long, Walking a straight 10 mile line forward and back shooting every half mile (6'3")
-Barry Flanagan, A hole in the sea (3'44")
-Dennis Oppenheim, Timetrack, following the timeborder between Canada and USA (2'6")
-Robert Smithson, Fossil quarry mirror with four mirror displacements (3'12")
-Marinus Boezem, Sand fountain (4'11")
-Jan Dibbets, 12 hours tide object with correction of perspective (7'32")
-Walter de Maria, Two lines three circles on the desert (4'46")
Gerry Schum, Identifications – Fernsehausstellung II, Fernsehgalerie Berlin (1970)
Selectie:
-Joseph Beuys (4'55")
-Gilbert & George (1'25")
-Stanley Brouwn (1'5")
-Ger van Elk (1'25")
-Giovanni Anselmo (1'10")
-Alighiero Boetti (2'8")
-Gino de Dominicis (1'55")
-Mario Merz (1'30")
-Richard Serra (2'48")
-Lawrence Weiner (50") 

Identifications wordt integraal vertoond op de tentoonstelling Time Extended /1964-1978. Part II.

SPREKERS
Robyn Farrell is curator, schrijfster en curatorieel assistent in het departement moderne en hedendaagse kunst van het Chicago Art Institute. Farrells academische interesse gaat uit naar nieuwe vormen van mediakunst, (Europese) kunstenaarsnetwerken en naar de distributie- en tentoonstellingsgeschiedenis van film en videokunst.
Eric de Bruyn is docent Media Theorie en onderzoeker aan de Universiteit van Leiden. Het onderzoek van de Bruyn richt zich op 'media topologieën': genealogieën van topologische structuren, modellen en strategieën in moderne en hedendaagse kunst.
Jan Dibbets begint in de jaren 1960 met een onderzoek naar visuele waarneming en de fotografische realiteit. Met zijn werk sluit Dibbets aan bij de conceptuele stromingen van de jaren 1960 – 1970. Door het veelvuldig gebruik van het landschap wordt zijn werk regelmatig besproken binnen de context van de Land Art.

PRAKTISCH
Voertaal: Engels
Locatie: Herbert Foundation, Raas van Gaverestraat 108
De toegangsprijs bedraagt 14 euro (8 euro voor studenten) en wordt contant betaald. Beperkt aantal plaatsen beschikbaar.
Gelieve vooraf te reserveren via reservation@herbertfoundation.org

Met de steun van: