21.01.2018, 2 p.m. - 6 p.m.
Conversation:

Konrad Fischer and Internationalism / 1967-1973
Kasper König, Benjamin H. D. Buchloh & Lynda Morris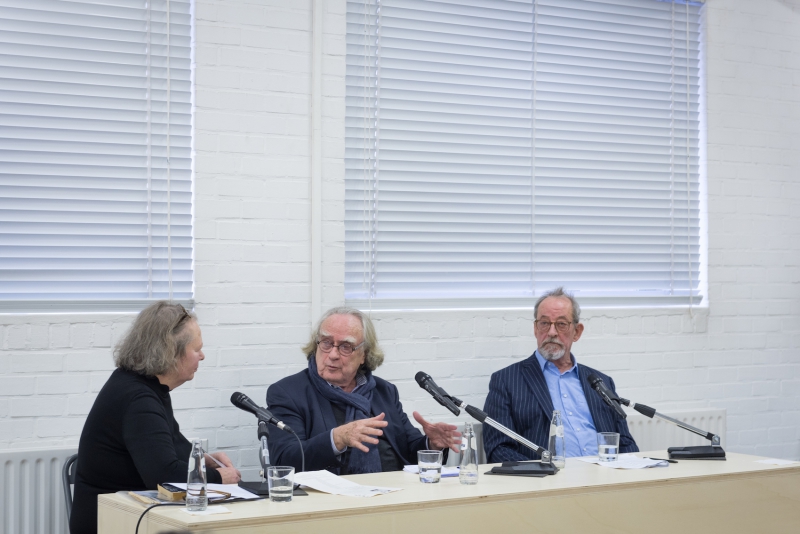 On Sunday January 21 2018 at 2 p.m., Herbert Foundation is pleased to invite you to a conversation between Kasper König, Benjamin Buchloh and Lynda Morris.
The event takes places within the framework of the exhibition Time Extended / 1964 – 1978. Part II and pays tribute to Konrad Fischer (Düsseldorf, 1939-1996).
In October 1967, Fischer opened a space for contemporary art in a disused alley in the Neubrückstrasse in Düsseldorf. Through the exhibitions, all called Ausstellungen Bei Konrad Fischer, he aimed to promote the work of young artists who were then unknown in Europe and the USA.
When preparing for the opening of his space, he wrote a letter to Kasper König in New York, asking him for his help to approach American artists:
"I am planning big things. For these big things, however, I urgently need your help. I am opening a dealer gallery. In September. I have already the space, very beautiful. […] I absolutely want to make a progressive gallery, in which good young artists, also unknown, would exhibit. I am interested in Carl Andre, Donald Judd, Sol LeWitt, Agnes Martin […]. You will also know a few good, young people there, whose names are not known to me yet […]".
Konrad Fischer's insistence on bringing the artists to Düsseldorf instead of crates containing their works enabled them to meet their contemporaries and create an international balance between the USA and Europe.
The event at Herbert Foundation consists of a conversation between Kasper König, Benjamin Buchloh and Lynda Morris, who all knew Fischer in the early years. Focusing on the period 1967 – 1973, the discussion will trace the initial development of Minimal Art into Conceptual Art.
The conversation is accompanied by an archive exhibition in the exhibition space of Herbert Foundation at the Coupure Links 627A as well as the Archive space at the Raas van Gaverestraat 108.
The event and both exhibitions underline Konrad Fischer's importance for the Collection and Archive of Annick and Anton Herbert and will lead to an extensive publication, available later in 2018

SPEAKERS
Kasper König studied in London and New York and assisted Pontus Hulten at the Moderna Museet in Stockholm from 1966 on exhibitions of Warhol, Oldenburg and Keinholtz. A year later he helped Konrad Fischer contact USA artists. In 1969 he was director of the experimental space A 37 90 89 in Antwerp founded by Hubert Peeters, Isi Fiszman and Herman Daled. Subsequently, König worked at the Nova Scotia College of Art and Design and started their publishing programme. He was given a chair at the Kunstakademie Düsseldorf in 1985. In 1987, he founded Portikus in Frankfurt am Main and became director of the Städelschule Frankfurt in 1989. From 2000 until 2012 he was director of the Museum Ludwig in Cologne. König was chief curator of Manifesta 10 in St. Petersburg and curated five Skulptur Projekte Münster from 1977 to 2017.
Benjamin H. D. Buchloh studied in Berlin and edited in 1974-75 the magazine Interfunktionen.
He worked at the Nova Scotia College of Art and Design and Columbia University. Since 2006, he is the Andrew W. Mellon Professor of Modern Art at Harvard University. He worked with Konrad Fischer on the exhibition Prospect: Retrospect – Europa, 1946-1976. He published Beuys: The Twilight of the Idol in 1980 in Artforum and edited in 1987 the October issue on Marcel Broodthaers. He is the author of Neo-Avantgarde and Culture Industry: Essays on European and American Art 1955-1975 and publications on individual artists including Gerhard Richter and Andy Warhol. He is internationally recognised as one of the most important scholars of post-1945 art.
Lynda Morris met Konrad Fischer working on the installation of When Attitudes Become Form at the ICA in 1969. She wrote an RCA thesis on Art Education: Beuys, Art Language and NSCAD and wrote for Studio International and Art Monthly. She worked for Nigel Greenwood and curated Germano Celant's Book as Artwork in 1972. At the Slade School of Fine Art she developed projects with Marcel Broodthaers, Dan Graham, Joseph Beuys, Andre Cadere and Gilbert & George. At Midland Group Nottingham she curated Richter's 48 Portraits, David Hockney's Prints and A.I.A.: Story of the Artists' International Association, 1933-53. She curated EASTinternational from 1991 until 2009 and Picasso: Peace and Freedom at the Tate in 2010. In 2014, Morris developed the exhibition Genuine Conceptualism at Herbert Foundation, which investigated the early years of conceptual art through her Archive and Collection. The exhibition was accompanied by a publication including texts, interviews and articles on conceptualism Morris published in journals such as Studio International, Flash Art, The Listener and Art Monthly since the 1970s as well as recent articles and lectures on early conceptualism. She is Professor of Art History and Curation at Norwich University of the Arts.

PRACTICAL DETAILS
Language: English
Location: Herbert Foundation, Raas van Gaverestraat 108
The admission fee is 14 euros (8 euros for students) and should be paid in cash. Limited seats available.
Please reserve in advance by sending an e-mail to reservation@herbertfoundation.org
Update 09.01.2018: this event is FULLY BOOKED.
Please send your details for our waiting list and we will contact you if a seat becomes available.