16.04.2023, 11:00 - 13:00
Talk:

Mike Kelley: Meltdown
door John C. Welchman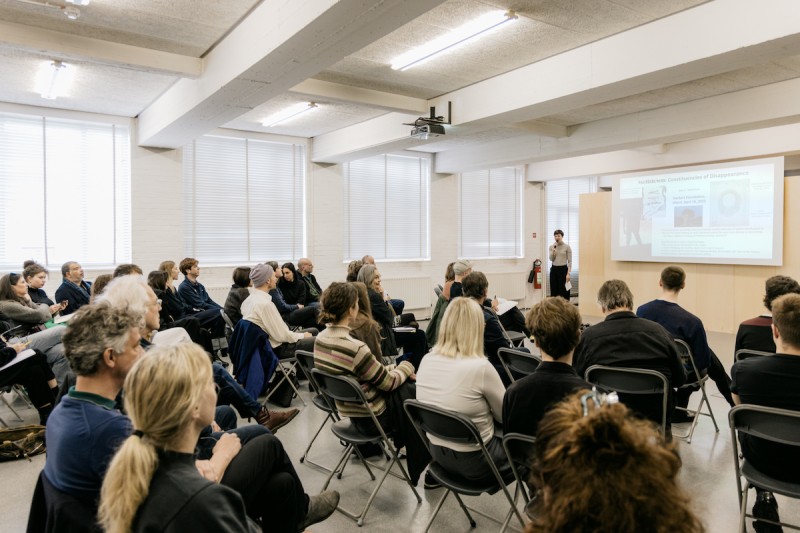 (Foto's door Yuri van der Hoeven)
This talk discusses the torrents and spasms of disappearance that course through—and "trickle" out of—Mike Kelley's work in what amounts to a momentous, and unstable, negative economy. His excavations and subtractions include leaks, dissipations, or bodily evacuations on the one hand, or wholesale purges and active gestures of voiding, or avoidance, on the other. Narrative-seeding locations are erased from the Garbage Drawings (1988); performative linearity and the coefficients of temporal succession are actively relinquished through editing in Kelley's first exercise in video and post-production effects in Banana Man (1983); photography is partly cancelled in the technological malfunctions of Black Out (Detroit River) (2001); caves are governed, and eclipsed, by language in The Poetics of Form (1988); almost everywhere, light is whittled down into darkness; and we encounter various figures of, and surrogates for, cleansing and its agency. It sometimes seems as if Kelley ends up outing everything, including a good deal of himself.
John C. Welchman will connect Kelley's discourse on dissolution with the master-narratives he inherited and challenged from Marx and Freud, and with pop cultural formations; and set them in relation to what he identified as the defining horizon of disappearance: nuclear catastrophe and annihilation.

John C. Welchman is Distinguished Professor of art history at the University of California and Chair Emeritus, Mike Kelley Foundation for the Arts. He is the author of numerous publications on modern and contemporary art including Modernism Relocated (1995), Art After Appropriation (2001), Past Realization (2016), After the Wagnerian Bouillabaisse (2019), Richard Jackson (2020) and Royal Book Lodge (2023). He edited Rethinking Borders (1996), Institutional Critique and After (2006), The Aesthetics of Risk (2008), and Black Sphinx: On the Comedic in Modern Art (2010), as well as three volumes of Kelley's writings: Foul Perfection: Essays and Criticism (2003); Minor Histories: Statements: Conversations, Proposals (2004); and Interviews, Conversations, Chit-Chat (2006).


TIMING
11:00 – 12:30: gesprek
12:30 – 13:00: drink en napraatmoment

PRAKTISCHE DETAILS
Voertaal: Engels

Ingang via Raas van Gaverestraat 108
Het event wordt vergezeld van een kleine archiefpresentatie
Met uw toegangsticket voor het event, kunt u in de namiddag tussen 14:00 en 16:00 de tentoonstelling Distance Extended / 1979 – 1997. Part II in de Loods bezoeken.