L'Architecte est absent
Works from the Collection of Annick and Anton Herbert, répertoire
Van Abbemuseum, Eindhoven
November 24, 1984 – January 06, 1985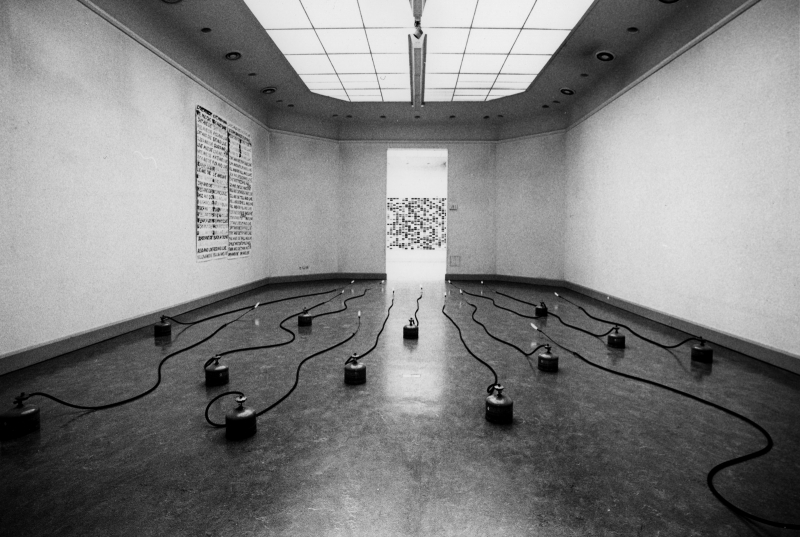 The first exhibition took place in the Van Abbemuseum in Eindhoven under the directorship of Rudi Fuchs. In addition to giving a state of affairs after eleven years of collecting, this exhibition mapped the tension between the private nature of the Collection and its first display in a museum setting.
The exhibition was presented as a dialogue between the Van Abbemuseum's public acquisitions and the Herbert Collection. Rudi Fuchs suggested the Herberts to choose pieces from the Eindhoven museum collection. Fuchs himself, together with Jan Debbaut, in turn chose works from the Herbert's private Collection. Though the Herbert Collection constituted the chief part of the exhibition, Eindhoven museum pieces by Georg Baselitz, Sigmar Polke and Daniel Buren were also on view.
Aside from the public-private tension, the spatial arrangement of the Collection was also an important focus of reflection. Some years earlier, the Herberts had found a fitting home for their acquisitions in an industrial building complex in Ghent, which is also where the Herbert Foundation is based today. The building's sober architecture deflected all attention to the essence of the Collection, namely the works themselves.
The title of the Eindhoven exhibition, L'Architecte est absent – borrowed from the 1968 Marcel Broodthaers work Le Corbeau et le Renard – was chosen in reference to this emphasis on a neutral exhibition space. In reference to the stage the Collection then found itself in – not yet complete, but in full development – Rudi Fuchs added the subtitle répertoire to the exhibition.