03.06.2018, 2 p.m. - 5 p.m.
1974. International Avant-Garde Art at the Palais des Beaux-Arts
With Joris D'hooghe and Daniel Buren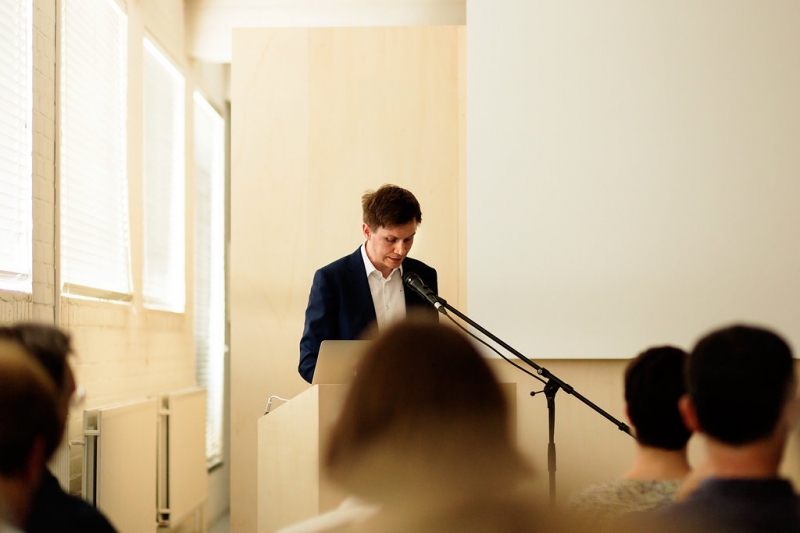 Photos: Els Hemelings


Within the framework of the exhibition Time Extended / 1964-1973. Part II, Herbert Foundation organises the event 1974. International Avant-Garde at the Palais des Beaux-Arts Brussels on Sunday 3 June.
From 9 January until 3 February 1974, Yves Gevaert organised the exhibition Carl Andre / Marcel Broodthaers / Daniel Buren / Victor Burgin / Gilbert & George / On Kawara / Richard Long / Gerhard Richter at the Palais des Beaux-Arts Brussels (Centre for Fine Arts Brussels). This exhibition and the accompanying catalogue presented a selection of international avant-garde artists, each of whom had a determining influence on the artistic developments of that moment in time.
For the collection of Annick and Anton Herbert, the exhibition marked an important milestone. Several works that were on display back then are now a part of the collection of Herbert Foundation: Gilbert & George's Inca Pisco, one of the four 1024 Farben in 4 Permutationen by Gerhard Richter, and a copy of the book Du vélum au volume which resulted from the work that Daniel Buren created in 1974 for the PBA.
The event will open with a lecture by art historian Dr Joris D'hooghe, during which he will further discuss the history of the exhibition and its international importance. He will also go deeper into the individual contributions of the artists to both the exhibition and the catalogue. After his lecture, D'hooghe will have a conversation with artist Daniel Buren about the work Peinture Horizontale that Buren created for Gevaert's project.
The event is the first result of a broader investigation that seeks to highlight the art historical relevance of the exhibition. Following this, a publication will be presented in the autumn of 2018 where the entire research will be disclosed, illustrated by a selection of historical photographs and archival documents. Additionally, the conversation between Joris D'hooghe and Daniel Buren will be reproduced as well.
The event will take place at the Archive of Herbert Foundation (Raas van Gaverestraat 108) and will be accompanied by a presentation of documents from the archive of Yves Gevaert and Herbert Foundation.

PRACTICAL DETAILS
Language: English
Location: Herbert Foundation, Raas van Gaverestraat 108
The admission fee is 14 euros (8 euros for students) and should be paid in cash. Limited seats available. Please reserve in advance by sending an e-mail to reservation@herbertfoundation.org